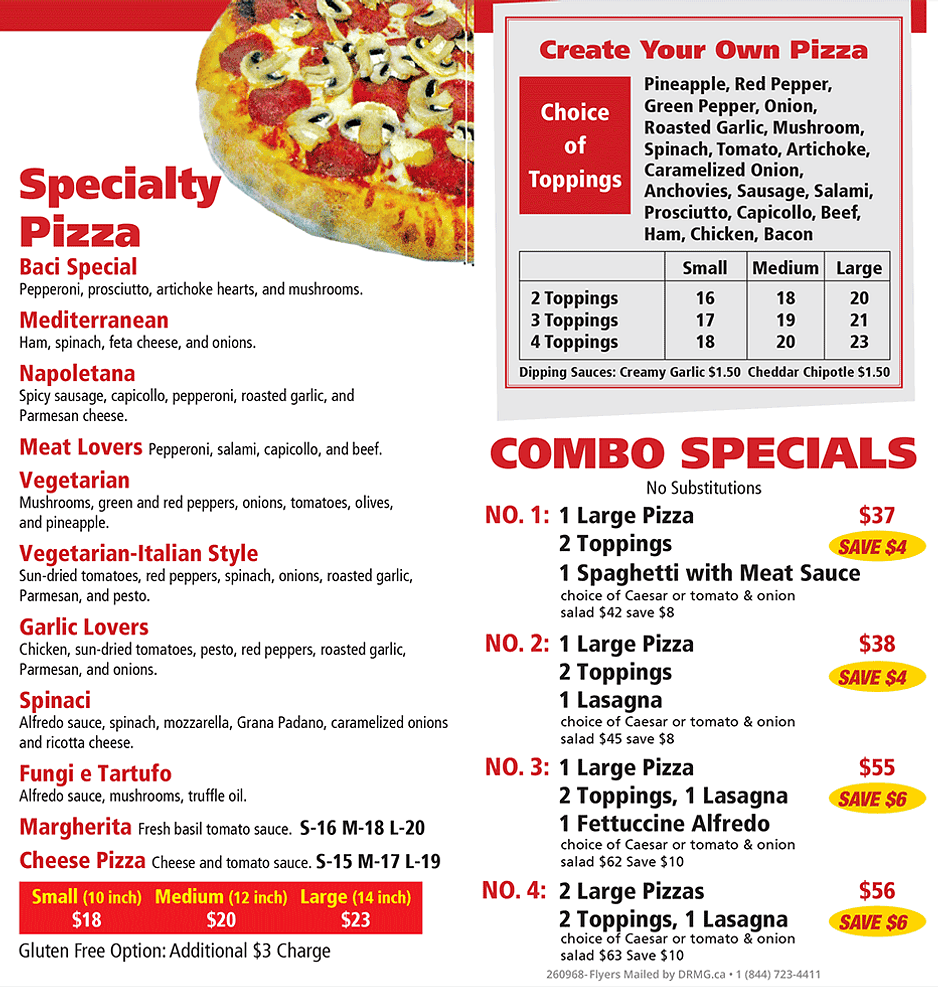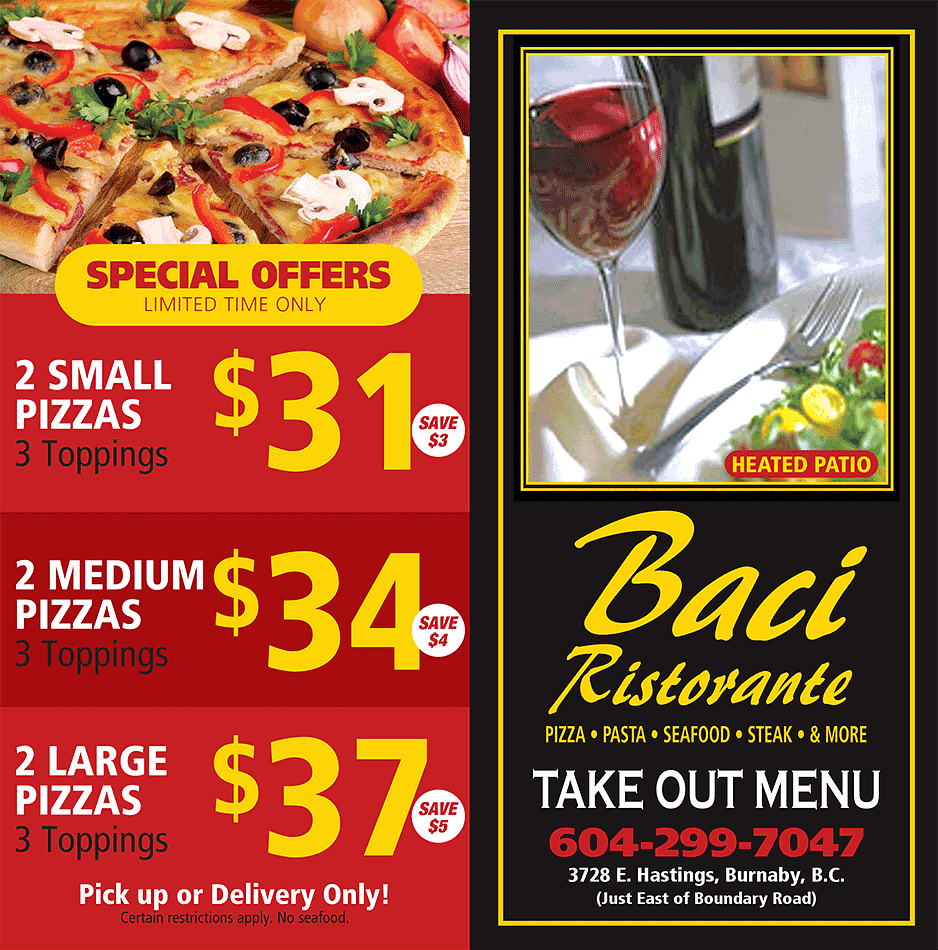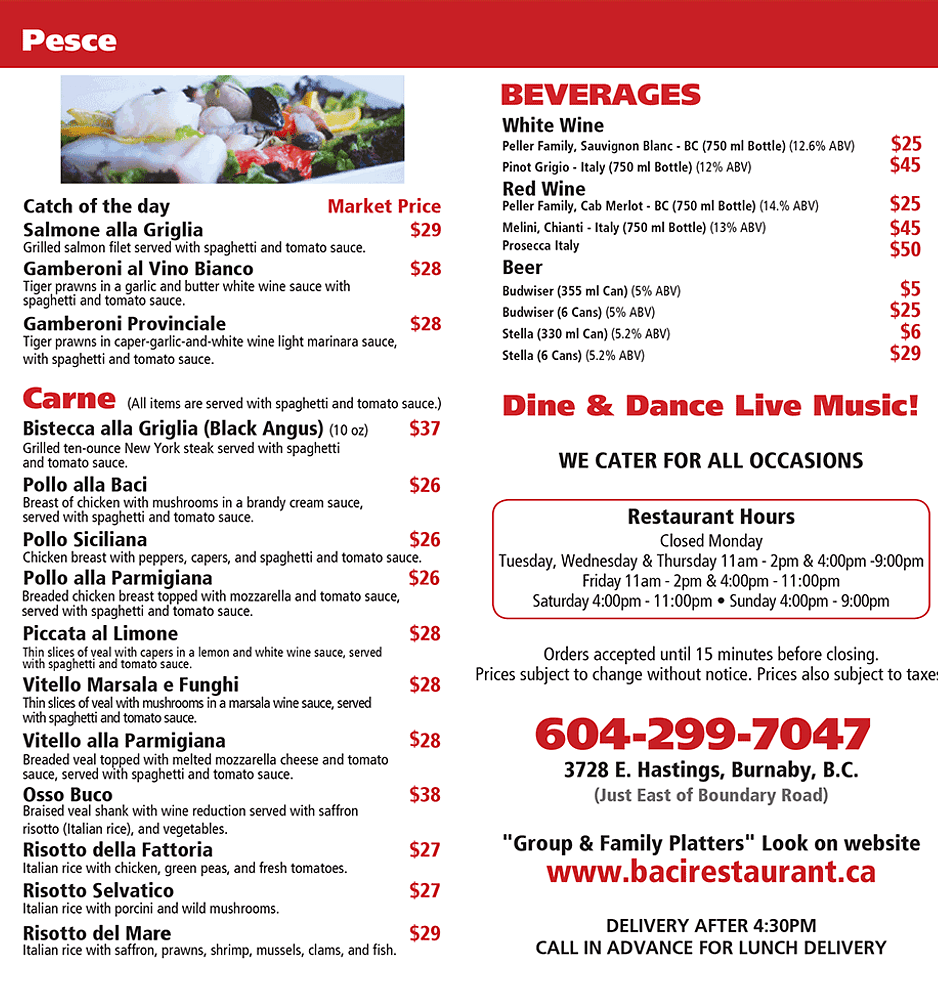 Each platter serves 4 - 6 people.
Antipasto Platters
Insalata Baci $45
Green leaf spinach arugula cherry tomato apple cider vinaigrette.
Insalata di Pomodori e Cipolle $45
Tomato onion salad.
Insalata di Pomodori e Bocconcini $50
Fresh tomato & baby mozzarella cheese.
Insalata di Cesare $45
Classic Caesar salad.
Antipasto Misto $45
Prawns, cold cuts, cheese, seafood, olives, marinated vegetables and more.
Pasta Platters
Pasta Choices $70
Spaghetti, Linguine, Fettuccine, or Penne
Option: Gnocchi +$10
Sauce Choices:
Tomato, alfredo, pesto, olive oil and garlic
Add-ons:
Mushrooms, Italian Sausage, Chicken, or Shrimp +$15 each
Tiger Prawns +$30
Lasagna (meat sauce) $70
Carne – Meat Platters
Pollo alla Baci $70
Breast of chicken with mushrooms in brandy creame sauce.
Pollo alla Parmigiana $70
Breaded breast of chicken, melted mozzarella cheese, tomato sauce.
Scaloppine Piccata al Limone $70
Veal Scaloppine with capers in a lemon and white wine sauce.
Vitello Marsala e Funghi $70
Veal Scaloppine with muchrooms in a marsala wine sauce.
Vitello alla Parmigiana $70
Breaded veal, melted mozzarella cheese tomato sauce.
Contorno Platters
Roasted Potato & Seasoned Vegetables $40
Dolce Platter
Tiramisu $30
Italian cheesecake
---
For Delivery, please place your order by calling us at (604) 299-7047.
White Wine
Sauvignon Blanc, Peller Family (BC)
750ml, 12.6% ABV
$25
Pinot Grigio, Santa Margherita (Italy)
750ml, 12% ABV
$45
Red Wine
Cab/Merlot, Peller Family (BC)
750ml, 14% ABV
$25
Chianti, Melini (Italy)
750ml, 13% ABV
$45
Sparkling Wine
Prosecco Frizzante, Villa (Italy)
750ml, 11% ABV
$50
Beer
Budweiser
355ml per can, 5% ABV
$5 (per can) | $25 (6-pack)
Stella
330ml per can, 5.2% ABV
$6 (per can) | $29 (6-pack)